Last week in 'Wake To Wealth' I shared an in-depth guide on how to make your first $1k as a Coach
You all loved it and some of you wanted more!
So, today, I'm diving in to walk you through the steps for how to make your first $10k as a Coach
If you've made $1k online, then the likely hood is that you already have some of the skills required to hit your first $10k.
The question now is, what do you need to do to get from $1k to $10k, 5 Figures?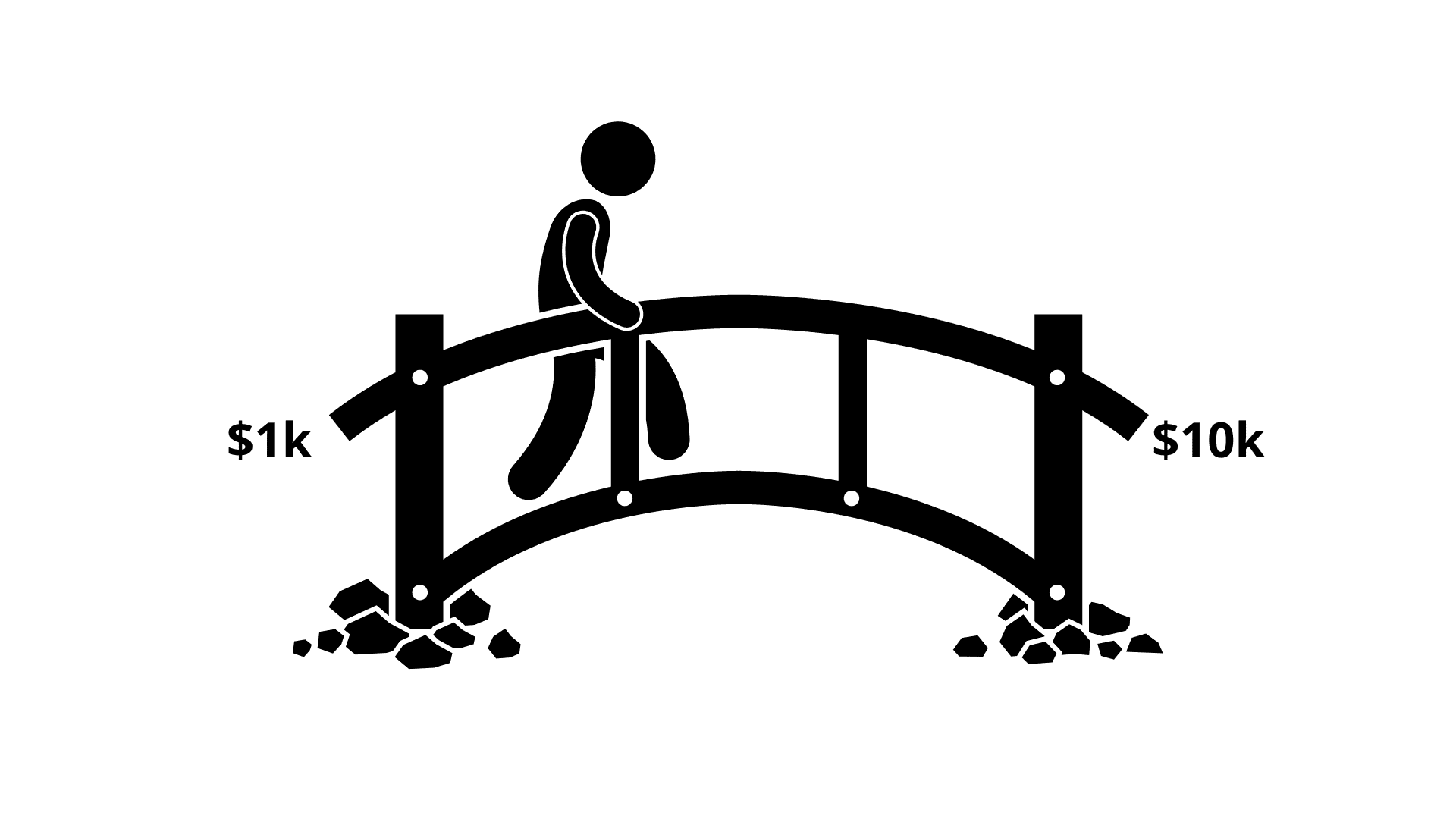 Making your first $10k means that you've brought in a 5 Figure Revenue and this gives you a MASSIVE perspective around SCALING!
Before long, you'll want to move on to the next goal… $100k
But hold your horses, let me walk you through your first $10k FIRST
Here are the steps that I would take – these steps should help you to stay focused, gain traction and see your first $10k in your bank account
Let's dive in!!
4 major challenges to be aware of
When I talk to entrepreneurs who have hit their first $1k, they often face some very unique challenges when it comes to going to that next $10k milestone
They don't have the right offer that commands a $10k price tag

They don't know how to sell 'High Ticket'

They haven't honed in their Messaging – so when they do talk about what they do, it's a bit of that '

spray and pray marketing'

that we all know doesn't work

They don't have a Sales System that delivers their offer to their Ideal Client on repeat!
If you resonate with any of the above, then this guide will be your lifeline to hitting your first $10k… read on!
Recommended: How I make £4,596 per month from a membership business
Step 1: The Right MINDSET
The biggest thing that stops most entrepreneurs from progressing is this…
Their MINDSET!
According to research, there are 2 types of mindsets:
A growth mindset – "the belief that an individual's most basic abilities and skills can be developed through dedication and hard work —brains and talent are just the starting point."
A fixed mindset is "the belief that an individual's basic abilities and skills, their intelligence and their talents, are just fixed traits."
There's a huge difference between the 2 but I can tell you that the mindset for a person bringing in $10k through their biz is a Growth Mindset
There are several steps to achieving a Growth Mindset, here are my top 3:
1.

Do the work and put in the time
Most people want to have a business that brings in AT LEAST $10k/month but very few are willing to put in the work that is required
Here's how I like to put it:
"Show me your work ethic and I'll tell you how successful you'll be"
It's easy to set goals, have dreams, write visions… whilst all of that is well and good, it's DOING THE WORK that counts
2.

Achieve your outcomes quickly
Another area where people get stuck is 'perfectionism'.
Do not be obsessed with perfection. Instead, be fast.
Done is better than perfect!
It's also called a 'First mover advantage' and this is very important for growth. Getting somewhere first has more value than being perfect but last.
Get fast at creating and getting your offers out there, then, focus on "perfecting" them later!
3.

Be 100% accountable
I often have calls with potential clients and if there's one thing that could cause me to want to turn away their business, it's this:
Lack of responsibility!
Accountability and taking responsibility go hand in hand
In order for you to successfully hit your money goal, you have to be ready to take responsibility for your actions, what you did or didn't do and be willing to hold yourself accountable
There is power in holding yourself accountable
Working on your mindset, however, is a DAILY affair! But I hope I've given you some food for thought
Step 2: The Right BUSINESS MODEL
If you've adopted a growth mindset, then next is the right Business Model
One of the reasons most coaches never make a significant amount of money is because they're unclear about their business model
So because of that, they try a bit of everything they see.
This hap-hazard strategy leads them into:
Confusion

Overwhelm

Burnout

Lack of clarity

Lack of income
If you've ever experienced any of the above, then this part of the guide is for you
There are really 2 main types of business models that you want to choose from and they are the three C's:
Content → Conversation → Conversion

Connection → Conversation → Conversion
Let's break each one down:
Content → Conversation → Conversion
Content → Conversation → Conversion means that you're going to publish some content (whether that's on Facebook, Instagram, LinkedIn, Twitter, YouTube etc) or you're going to run a paid ad campaign
Then the call to action (CTA) from your Content is going to be a link to your calendar to schedule a call with you. This then leads to a Conversation
During that conversation, you're then going to show prospects exactly how you can help them to solve their problem, and if you do a great job, it leads to a Conversion
Very simple business model.
Let's take a look at the second type of business model:
Connection → Conversation → Conversion
You can see that with BOTH of these biz models, only the first part is different. The other two parts are exactly the same
Let's break down 'Connection'
This is simply a strategy where you connect with your prospects in the DMs
Perhaps through your content or Messaging, someone has reached out to you in the DMs without scheduling a consultation (aka Conversation) with you.
There's a simple method to lead them to book that Consultation so that you can move them forward in the buyer's journey.
(Note: if you would like to get hold of the exact DM script I use to enrol clients directly in the DMs, sometimes without even having to speak to them. You can grab it HERE as well as a training on how I use Facebook to fill my DM's with the RIGHT CLIENTS- Usually $197, yours for $67 because you're a valued subscriber)
So these two business models are incredibly simple. Now pick one, don't overthink it. Pick one.
Pick the one that you think you are well versed in.
If you're really good at social media, then use social media and connect with people through social media to have conversations on social media first and then you get them on the call.
If you're not great with social media, then figure out another way to get them on a call with you on Zoom to have a one-on-one consultation, in which case you are then able to move them to a conversation where you can convert them into a Client
So don't overthink it. Pick something that you know that you can stick with for a period of six months at least.
Recommended: Make your first $1k as a Coach – Step By Step
Step 3: The Right OFFER
So you've selected your business model, great… you're on your way to $10k per month!
Now, you need to have the right offer!
Here's a question for you:
How many steps ahead of your Ideal Clients does your offer need to be?
Answer: 2 steps, or at most, 5 steps!
The reason why you only want to be 2 to 5 steps ahead of your Idea Client is that people are not looking for you to solve world hunger, for goodness sake. They're looking for you to solve that specific problem that you said that you could solve, right
So they're not looking for you to give them big, massive wins.
The biggest problem I see when new Coaches create their offer is that they make their 'Promise' so huge and grandiose that it becomes very difficult for them to fulfil that promise or help their clients get any results
Transformation comes in small steps.
So you literally only need to be one, two, three or even a maximum of five steps ahead of your ideal clients.
Here's how to create the right Offer:
Define the

Transformation

that your offer will bring

Define the Ideal

Outcome

for the buyer

Define the key

problem

that your offer solves
(Side note: when selling your Offer, the above, are the only 2 things people want to know)
4. Define the 'Vehicle' for the Transformation
Intensives

VIP Day

1:1 Coaching

Group Coaching
(Side note: You can take a look at how I positioned mine on my Work With Me page HERE)
5. Work backwards from #1 and #2 and map out a series of Steps that will lead to that Transformation and Outcome
6. When you have the steps, under each step, write down the various Tasks that your Ideal Client has to complete in order to achieve each 'step'
Don't rush this stage of the process, remember, in order to hit $10k, your prospects will be investing a program that they believe in
So take your time to really create something transformational
When you're done, move into pricing!
Recommended: 4 Questions for Attracting Clients With Deep Pockets

Step 4: The Right PRICING
When it comes to pricing your Offer, here are some of the mistakes I see:
Most people price their offer according to the length of time it takes them to deliver it – this is the WRONG way to do it

Most new Coaches charge per hour – NEVER charge by the hour

Most new coaches discount their pricing because they don't have a pricing structure that they're comfortable with selling
The price of your program is a huge part of the sales process
Price it too low, your Ideal Clients will lose confidence in the offer
Price it too high and YOU might lose confidence in yourself – a hard sale
A rule of thumb for pricing a High Ticket Offer is to START at $3k
Why $3k?
It's priced just high enough that you'll attract clients who are serious

It gives your clients skin in the game

$3k is generally known as 'High Ticket' so you're positioning your business very differently from most people in your niche
And most importantly, at $3k per client…
…you'll only need 4 Clients to exceed your $10k money goal
4 Clients X $3k each = $12,000
The key to making an irresistible offer is in your Offer Stack
Create the right 'Offer Stack' and you will begin to edge closer to hitting your first or next $10k
I have created 15 of the BEST Offer Stacks so you can clone it and add it to your offer. You can find it HERE
Seem doable? of course, it is!
Recommended: Your 'Fail-Proof' Action Plan For Hitting 6 Figures In Your Biz

To Conclude
There are many ways to hit your first or next $10k!
The steps I've shared today are the 'foundational' steps. Yes, you could complicate it further but you don't need to
Lay the right foundation and you'll be on your way to hitting that first $10k!
Once you hit that first $10k, it becomes easier to hit the next milestone which is $100k!
I can help you hit that milestone too
See you again next week.
Whenever you're ready, there are 5 ways I can help you:
1. Master how to get hundreds of leads on Facebook to fill your business with PAYING clients WITHOUT paying for ads here
2. Master how to enrol High Paying Clients through one simple conversation here
3. Create & Launch your own High Ticket Signature Offer and 10X Your Revenue here
4. Enrol Your Ideal Clients in 3 Days – The S.E.E.D Method Case Study – Read it here
5. Work with me 1:1 to Scale Your Revenue (Limited Availability) – NEW!!!